The very first thing I had planned was to fit a sound system, along with getting the wheels refurbished and the car lowered. I had only owned it two weeks and it was in the audio shop getting the work done, and a month later, she was back under my right foot. It wasn't long before the spending bug grabbed ahold of me like a strung out junkie demanding his stash from you, and soon an array of parts were turning up on my doorstep. This bug has only really stopped since the beginning of this year, halting due to waiting on some rare parts to find their way to me from Japan that are long overdue, but definitely worth the wait!
Around 3 months or so into my ownership and I started wondering what others did to their cars, and vice versa, what they thought about what I was doing to mine. This is where I came across Type R Owners; yet as I had never been a part of the forum thing before I lurked for a while, reading information about the site and watched how people treated each other. Everybody seemed really pleasant. I really likedhow they strived to keep the site free of text speak and aggressive behaviour. I was sold, so I joined and I haven't looked back since. A wealth of information, honest opinion, and friendly people, all with the same passion as me. Finally a way to communicate with like-minded individuals, a sigh of happiness as none of my friends have any interest in cars beyond them looking nice.
Now, come May this year I would have had her for two wonderful years. 730 days of blissful grins, only getting bigger by buying performance parts to improve what was already a fantastic car. As can be seen by my spec list, I have spent what some (and everyone I know) would consider as an obscene amount of money. But it makes me happy, and it will not stop any time soon. I plan to keep this car for many years to come, and have plenty of plans for the future. In the (somewhat) immediate future, once my exhaust has arrived from Japan, the plan will be to have them fitted along with other power parts I already have, and have the car mapped accordingly. I have high hopes for the transformation.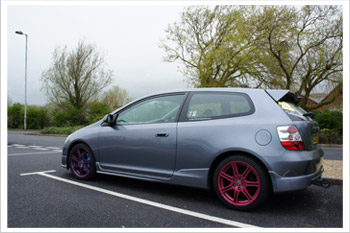 Slightly more distant into the future, I have both performance and aesthetical desires. With a carbon fibre bonnet from J's Racing, along with a Mugen spoiler, and a dash flock in black and purple to finish off the aesthetics. Then, the big plan and ultimate aim, is to chase power. Prior would be stopping duties, with some Project Mu 2 piece rotors, or maybe even adapting a full kit designed for the CL7! The lusting for power will incorporate a set of individual throttle bodies from M&M Honda, including their carbon casing so I can keep my J's Racing induction kit. Couple these with some Jun stage 2 cams, and various internal engine peripherals and I will see just how close to a relative figure of 280 horse power I can get. Or maybe more if possible. I know it will be a huge outlay, and I could achieve more at a fraction of the cost with forced induction, but I'm an N/A fiend and believe that this is what performance Hondas were designed for. Watch this space, I'm nowhere near finished yet!