Type-R-Owners (TRO) prides itself on being a site and forum which provides members with a wealth of information on everything Type R related. However there is more to the site than just information. Within the site's forum you will find a wide range of members (old and new) that not only share information regarding the red H, but who have also formed close friendships, whether it be just online, or through meets and other events organised via the forum. A real sense of community spirit can be found on TRO which many regular members will pay testament to.
As with any community, people come and go, but some of the regular members log in to the forum on a daily basis and you can be sure that one or more of them will be online at any given time. These members form the foundation of the online community, the very basis of the success of this site which has over 11,000 members and counting. One such regular member whose helpful, insightful and often humorous posts you'll see throughout the forum was a chap called Hatton.
Ben Hatton's lust for all things automotive began when he bought his first car: a Ford Fiesta 1.2 with Zetec S body styling bolted on. As with most young drivers, insurance costs restricted Ben from getting the real deal. However he soon caught the enthusiast's bug and found a way to fund the purchase of his first Fiesta Zetec S. Ben then progressed onto a Ford Racing Puma (which he confessed was the best handling car he had ever owned), before returning to Fiesta Zetec S ownership with a very nice red example with white wheels. During his ownership of Fords, Hatton became a regular member and then a moderator on the Zetec S Owners Club site. As with many people who join forums, Ben realised that it's worthwhile doing your research online before you delve into the unknown, especially when it comes to cars and unfamiliar marques. So when Ben was looking to buy a Honda Civic Type R, it made sense to sign up to a Type-R forum. Thankfully for us, he did and chose Type-R-Owners.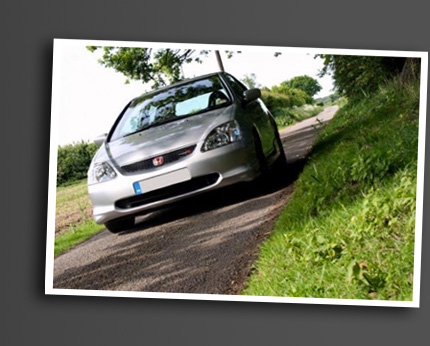 Ben eventually bought a Honda Civic Type R (EP3) back in 2006. A very clean, satin silver pre-facelift to be precise. As with all of Ben's cars, he cherished it and although it was not overly modded throughout his ownership, Ben ensured it was well maintained and looked after which included a particular passion for detailing. This was evident when Ben attended many of the Norfolk meets in the following years and terms such as "spotless" and "cleanest EP3 I've seen" were often directed towards Ben's car.
After three years of cherished ownership, Ben parted ways with his beloved EP3. What better car to replace it than his "dream car for his budget" as he put it: a 2001 Honda Integra Type R (DC5), the next car to grace chez Hatton. Bought from another forum member, the DC5 received just as much love and attention as all of the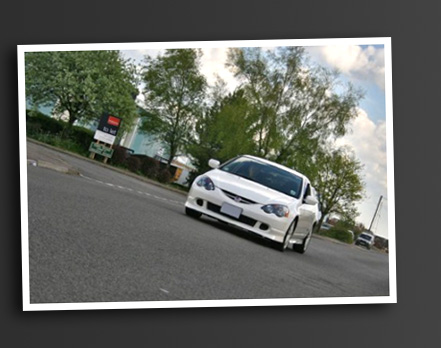 previous cars in Ben's ownership. It served him well as his daily driver to work and again it graced many meets around the Norfolk area.
Ben always had an itch to scratch when it came to cars and it wasn't long before he got the urge for some rear wheel drive VTEC action in the shape of an S2000. Unfortunately this meant that Ben would have to part ways with the DC5. Although this was just initially an idea with no real intent for Ben, the first UK owner of the DC5 (another forum member on here) contacted Ben and gave him an offer he couldn't refuse for the "Teg". So Ben reluctantly parted ways with the DC5 and the hunt for an S2000 began. Unfortunately for Ben, there were no examples on sale that passed the Hatton seal of approval so for the interim period, Ben returned to his Ford roots in the shape of a Fiesta ST.
Ben continued to live life on a day to day basis, saving what pennies he could to go into the S2000 fund. This wasn't always easy however, as he had other hobbies and passions that needed funding. Trips to Las Vegas were an almost annual occurrence and Ben would share his memories, in pictorial form on the forum, of his adventures to Vegas with his girlfriend Emma and his closest friends. Ben had a fetish for all things technological as well, in particular audio-visual equipment and he was always tinkering with his set up, with new amps and speakers always in the pipeline. These other expenses as well as the general cost of living (which included keeping Emma sweet) obviously took their toll on the car fund and the elusive S2000 remained just out of reach. Ben put the Fiesta up for sale to help things along but unfortunately he had little interest from prospective buyers.

In July of this year, Ben had to put the hunt for the DC5 replacement on hold. He was scheduled for a routine pacemaker change, his fourth in total throughout his life.
Ben had undergone a Senning repair at the age of 8 months. Unfortunately a possible complication of this procedure can be an irregular heart rhythm that can manifest later in life. This happened to Ben when he was 11 years old, leading to him needing a pacemaker to return his heart rhythm to normal. This meant that he would need the pacemakers changed throughout his life, as and when they wore out. To many people the idea of having a pacemaker would seem overwhelming, but Ben just treated it as one of those things. He never let it get in the way of his life or what he wanted to do. It never held him back and to people who were none the wiser, Ben was just a fit and healthy young man.
Although Ben was familiar with the procedure of having his pacemaker changed, he was still not completely comfortable with it, a sentiment that he expressed on the forum prior to the operation. Ben received many messages of support from forum members in return, a true testament to the community spirit found on TRO. They may have been only small gestures to others reading in, but they meant a lot to Ben.
"Thanks lads. I think I'll live on TRO in the next few days."
On Thursday 7th July 2011 Ben had his routine pacemaker change. Tragically there were complications during the procedure and Ben died during the operation.
The devastating news of Ben's death quickly spread to the forum and was met with shock and disbelief. Words of sympathy and condolence flooded in from across multiple forums and social network sites. It soon became apparent to everyone just how much of an impact Ben had had on people's lives. Whether it was his helpful technical knowhow on various subjects, his unique and infectious sense of humour or even partaking in an online game with team CAKE, Ben was considered a good friend, both to people he had met and those who just knew him through his online persona.
Understandably, people on TRO and across other online sites wanted to pay tribute to Ben and offer messages of support to his family. In an attempt to answer these requests, a charity fundraising page was set up in honour of Ben. http://www.justgiving.com/Ben-Hatton
The response was overwhelming. Over £1,000 was raised within the first 24 hours of the page being set up. At the time of writing the total currently stands at over £3,000 and will no doubt continue to rise. The messages of support that were left alongside donations are very touching and helped Ben's family and loved ones through an understandably very difficult time.
Ben made a huge impact on so many people on TRO. It is only fitting then that we continue to remember Ben in any way that we can. The forum has lost a prominent member, but being a close knit community it is important that we continue to show support for the people closest to Ben. This page pays an ongoing tribute to Ben and the impact he had on all of us.


The Hatton memorial decal
The design incorporates aspects of Honda and Ford as these were both a passion for Ben throughout his life. The red and white design also pays homage to another love in his life... Arsenal FC. As anticipated, the decal has already been a huge success with members on this forum and Zetec S owners club and it has even graced the Honda Racing British touring cars in the 2011 season!
Hatton memorial decals are available to buy from the TRO forum, click here for details.